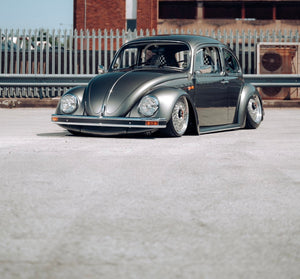 Need 'next level' cool?
Achieve your ultimate look with EvaResto suspension parts
Born from a lifelong obsession
Now dedicated to Custom parts Design, Fabrication and Assembly. Proudly Hand Made!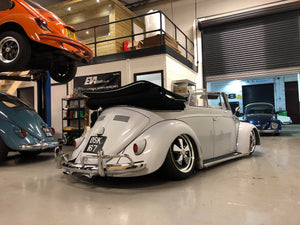 EvaResto - For the Obsessed, by the Obsessed
Welcome to EvaResto.co.uk. 
We are a small independent Aircooled VW Parts Manufacture/Service shop based in the Cannock, Staffordshire. Established in 2015 originally as a VW Restoration & Service business, we since went on to build a handful of notable and magazine featured cars.
After a change of heart in 2017 we moved away from full Restoration services and into custom parts design - dedicating ourselves to designing and fabricating suspension parts that worked and fitted the way we really wanted - Unlike anything else available at the time.
We now offer a fairly well sized catalogue of top quality engineered products that compliment your VW whether it be a daily driver, weekend toy, show winner or up-and-coming project.
so have a look through our store, and if you have any queries at all don't hesitate to drop us a line to the email address below :).
Thanks for visiting -
Max Edwards (Founder)